25 Best Things to do in Seoul
In the six years since I've first come to Seoul I've seen the city change in a thousand ways and yet remain the same in others. As of late the media frenzy over North Korea's antics has people all over the world concerned about their loved ones living here as well as dampening any likely musings on traveling to Korea.
Well, I'd like to calm those fears by saying it's life as usual here. Seoul's a wonderful place to visit and its fast paced lifestyle that may whiz by if you don't take the chance to stop and do some of the awesome things out there. So if you're in Seoul for only a day or perhaps a week here are 25 of the best things you can do to see the sights and enjoy yourself.
Day One: Go with a Bang!
1) Ipark Electronic Market & CGV4D movie
2) Norayangin Fish Market and Soju
3) Pc Bang, Noraebang, Jijmjilbang DVD bang, MultiRoom
4) Hongdae, Silent Disco, Shopping
So, on your first big day out I suggest hitting up the electronics market in the morning. Anchored by the huge I-park store its one of the best spots to browse everything from air conditioners to video games withe everything in between Need some motherboards or hard drives, then look no further. You can also pop into the CGV to take in a 4 D movie. You haven't truly seen a movie until you experience the glory of 4 D. From the shaking seats, gusts of wind, and spritz of water in your face to the 3 D projectiles flying at you it's a moment not to be missed.
Next, hit up the Norayangin Fish market. Pick out your favorite sea food and have the restaurants on site cook up your meal for a nominal fee. It's worth it especially when you wash it down with sojo.
Then swing over to Hongdae to bang it up. PC, DVD, Jimjil, Norae, or an all in one multi room! Seoul, especially Hongdae, has enough entertainment rooms to channel your inner diva or whip out your virtual pistols and let off some steam. Or just rest up and relax for a bit at the jimjilbang before the night's adventures in Hongdae begin. Whether its shopping or hitting up the multitude of clubs and bars you'll find something to your tastes whether its electronic, rock 'n roll, silent disco, or hip hop. Or shop, smoke a hookah, or grab a bite.
Day Two: Tradition Never Felt so Fun
5) Cultural Cooking or language Classes in Insadong
6) Souvenir shopping Insadong and Walk along Cheongyecheong
7) Gay bar Bonanzaa in Jongno Soju and Karaoke old school style
Day two brings some culture into the picture. In northern area of Jongno Insadong awaits. Here you can shop for souvenirs and take cultural cooking and language classes. Eat what you make or grab a bite in one of the many cafes and restaurants. Then walk a few blocks to Cheonggyecheon. This man made river walkway usually boasts an installation art work or a festival of some kind. If not the walk is still a pleasant one. Then take another class or grab dinner in Jongno and hit up the ton of little gay karaoke and soju bars. You may need a Korean friend to help navigate this unless you hit the more foreigner friendly spots like Love Star.
Day Three: Sightsee, Sweat, & Sweets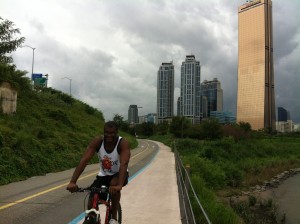 8) Han river extravaganza: bike, boat, picnic or blade
9) 63 Building experience wax museum, aquarium Cocktail at the top
10) Seorae French village & Cocktails Liquid Seoul
Day three finds you at one of the most iconic symbols of Seoul: the Han. Here you can rent a bike, roller blades, take a boat cruise or just have a picnic. Bring your own food or just stop in one of the many convenience stores dotted along the river. If you make your way west toward Yeouido you'll spot the 63 Building (another icon of Seoul). Here you can explore the wax museum, the Imax theater, race to the top of the building and take in the view and a cocktail or even dinner though prepare for a pricey meal. Better perhaps to cab it to the French Village, Seorae, which is nearby. There you can find a restaurant and a delicious cocktail at Liquid Soul. For dessert the Paris Croissant uses a Parisian trained pastry chef.
Day Four: The Namsan Experience
11) The Namsan Mountain (Seoul Tower, Animation Museum, Korean Theater,)
12) Blue House & Palace, Taekwondo Exhibition, & City Hall
13) Tea and Brunch In Samcheondong
Namsan stands the as the centerpiece of any trip to Seoul. It's not just a mountain to climb, but a traveler's dream spot to sight see. Here you can explore Seoul Tower, take in a cultural re-enactment, place you lock of love on the infamous chain link fence, and take in a show at the nearby Korean National Theater or play around at the Animation Museum. There's also a gondola to the top if you miss the bus or don't fancy the climb. Afterwards, check out the President's Blue House (be sure to book a preset visit) and the surrounding Palaces. On Wednesdays and Saturdays check out the taekwondo exhibition at Gyeonghuigung Palace. Then saunter over to City Hall and down the street on the way to samcheondong is the statue of King Sejong. Once in SamcheonDong you have a myraid selection of cafes, tea houses, and restaurants as well as shops. Enjoy!
Day Five: The Heights of Seoul
14) Hiking Achasan or Bukhansan
15) Coffee at Club Espresso in Buamdong
16) Top Cloud Cocktail dinner or not
Surrounded by mountains, Seoul is a great spot for hiking. Bukhansan would be ideal because not only do you get a view of the city but it's also crosses into Buamdong. Once there you can grab coffee and brunch and walk the streets of this tranquil little neighborhood. If you chose Achasan then you could head over to Children's Grand Park one station away. If you chose Bukhansan, my preference, then head over to Top Cloud at Jongno Tower for a late afternoon cocktail and perhaps dinner if the prices don't scare you away.
Day Six: Gangnam Style
17) Seoul Art Center
18) Bowling Pierrot Strike, Galleria & Rodeo in Apgujeong
19) Garou su Gil shopping till you drop
20) Clubbing in Gangnam: Ellui, Eden and Mass
Now, it's time to go south of the river and check out the Seoul Art Center. It's a complete marvel with galleries, orchestra house, and dance theaters. Afterwards head to the Galleria and Rodeo drive for a bit of shopping. If you do then I'd go for a game or two at Pierrot Strike where Victoria Secret models stomp the runway on neon drenched big screen TVs. Just a subway stop away awaits garousugil in Sinsa. There have a coffee and bite to eat or continue the shopping. Finish the evening at one of Gangnam's infamous clubs.
Day Seven: Where Spectating is an Olympic Sport
21) Basketball, Baseball, Soccer! Jamsil Stadium Complex
22) Olympic Park and the Seoul museum of Modern Art
In Seoul watching a sport is not a passive activity. At all of the many basketball, baseball, and soccer games played throughout the year it seems as if the audience gets just as much as a workout as the players. You'll be shouting, chanting, dancing, and drinking all to the pied piper antics yell leader adrenaline junkies and their cadre of sexy cheer leaders. After the game head over to Olympic park and take in the scenery. It's a lovely spot in the summer and fall and during the colder months there's always the Seoul Museum of Modern Art where you're sure to find an exhibit that intrigues if nothing else.
Day Eight: Kimchi, Kimbap, & Tteok oh my
23) MyeongDong Shopping & Dongdaemun Late night Shopping spree
24) Nanta
25) Samgaypsal, Galbi and Budajjigae
The final leg of your trip to Seoul! Ease into it with some shopping in Myeongdong. While you're there be sure to see Nanta. It's a non verbal musical performance well worth the price. For lunch definitely take advantage of all the local mom and pop spots. My favorite is budajjigae but anything from Kimchi jjigae to Shabu Shabu should go down well. The next stop would be Dondaemun for more shopping at there night market and maybe a deep fried corn dog wrapped in french fries. Though it looks tastier than it is.
There you have it, my own 25 Things to do in Seoul! I tried to organize everything in a practical easy way to get a good sense of Seoul. Still, you can mix and match your days and activities in way you like. And if you have any spots that would make a cool addition or think something doesn't deserve a mention, please let me know below in the comments!