What's the Craic? Well unfortunately you might have missed it, because it all went down last Saturday. Yup, another year, and another Saint Patrick's day has come and gone with a celebratory green blur. The last time I attended the festival was way back in 2008 when I had an afro and the event took place down by the Cheongyecheon stream walkway. This time, however, a series of random events brought me smack dab in the middle of the festivals relatively new spot outside Sindorim station. Situated right in the shadow of D-Cube City the plaza proved to be an ideal venue for Irish folk and Irish-philes to frolic in the hide and seek sun while whiling away the afternoon with music, merriment, and a steady supply of booze.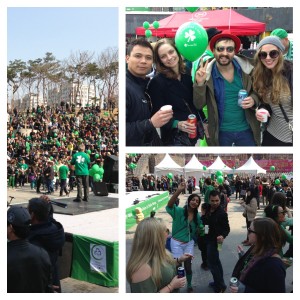 On hand for entertainment the musical and dancing antics of folks like Olivia Houck, Sweet Murphy's Fancy, Tap Pung, Donna Cullen and tons of others brought the flair of traditional and modern Ireland to the stage. People in the audience laughed, danced, and generally had a grand old time.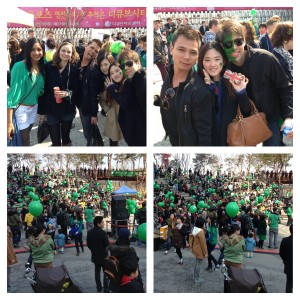 The crowd boast an international mix of people from all corners of the globe along all ages from grandparents to toddlers romping about. I think the cutest award went to the pair of ginger Korean kids stomping about in joy.
If you missed it then that's a shame cause it was a ruckus I won't soon forget. Still, only 12 more months until the next one!