Editors Note: Sadly Tiger Masala has closed.
Owner and chef Lee Seol Hee has brought something new to the HBC/Gyeongridan neighborhood when she opened the doors of Tiger Masala. She really has the market corned on Indian food because there isn't anything like it in the area unless you plan on trucking it into Itaewon. And if you're anything like me sometimes you just want to grab something local after work.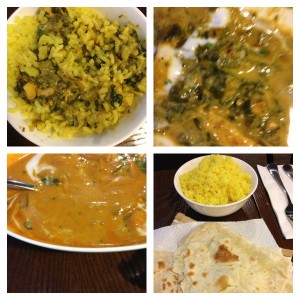 I predict big things for this tiny spot.
The interior of TIger Masala catches you right away with its bright splash of yellow. The space may be tiny, but it feels downright comfy compared to some other spots with hordes of people all packed in tight. Their menu is also on the sparse side but since each dish I tried turned out to be tasty I won't complain.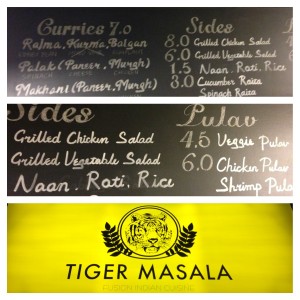 The mainstay of their menu are their curries. The Rajma curry is with kidney beans and a tomato base. The Palak comes two ways. The paneer is a spinach and cheese dish while the murgh is chicken with a spinach base. The chicken makhani in a tomato butter sauce was my favorite. There's also an eggplant with spicy tomato (baingan bharta) and a vegetable korma. Each curry is priced at 7,000 KRW.
You could also opt for a chicken, shrimp, or vegetable rice dish ranging from 4,500 to 6,000 KRW. Side dishes include a cucumber raita (3,000), grilled vegetable salad (6,000) or the grilled chicken salad (8,000).
They also don't forget the nan, sadly none of it garlic, and basmatic rice each at 1,500.
Prices:
1,500 to 8,000 KRW
Hours:
Tue – Sun: 5:00 pm – 12:00 am
Phone:
070-7563-1411
Address:
1F, 713 Itaewon-dong, Yongsan-gu /이태원동 713번지, Seoul, Korea 140-200
Website:
Directions:
Noksapyeong Subway Line 6, Exit 2. Walk 50 meters, then cross under street. Continue 40 meters to intersection, and we're just under the pedestrian bridge.
6호선 녹사평역 2번출구로 나와 50미터 직진-
지하도를 건너 다시 40미터 직진- NOXA, 기업은행을 지나면 나오는
육교앞에 있습니다.