I love my smart phone. It has become an indispensable part of my life. It's practically attached to my hand. Armed with my I-phone and an army of Apps I'm practically Superman. Hungry? There's an app to tell you where to eat and how to get there. Bored? A slew of games await to peruse and play. Lost? Maps abound and point you in the right direction. Tired? Exercise Apps will help whip you into shape.
And it goes on and on. Whether for fun, work, or school there's an App out there to make your life that much more convenient. So you can imagine how important Apps become to expats living abroad. I polled one hundred expats living in Korea to find out which top five Apps they use the most and can't live without in Korea. You might think that a currency converter might have made the list but you'd be wrong. So without further haste here's the list from most popular to least!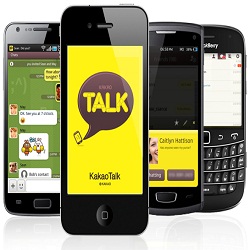 1. Kakao Talk (Free) I-phone, Android, Blackberry, Bada, WP
Available in 12 different languages Kakao Talk tops the list! It's an App that allows users to send and receive, texts, photos, videos, sound clips, both one to one and in groups. It's widespread in Korea and branching out everywhere. Plus, I like it for the KaKao TALK alert voiced by President Obama.
2. Jihachul (free) I-phone, Android
Jihachul (지하철) means subway in Korea. It came in as number two on the list. This subway map App is popular across the board with expats and locals alike thanks to it's user-friendly accessibility. It can help you find the nearest station, provide timetables and transfer information, provides the latest subway map of Seoul, Busan, Daegu, Daejeon, Gwangju and offers  multi-language support in English, Korean, and Japanese.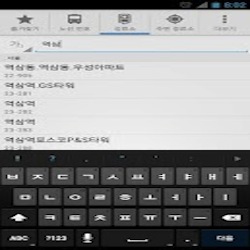 3. Seoul Bus (free) I-phone, Android
Hot on the heels Jihachul, Seoul Bus, provides the alternative to those underground jaunts. Providing real time bus arrival information, bus route information with bus location services, and nearby bus stops in Seoul, Incheon and Gyeonggi-do. Support in English is planned for the future but it's user friendly enough to figure out.
4. Google Maps (free) I-phone, Android
Google delivers on all the basics with their map. They offer 3D viewing, GPS navigation, directions for driving, walking or public transportation. However, because SiRi isn't functional in Korea a lot of the additional features are not operational.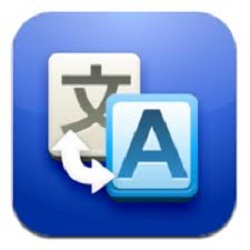 5. Google Translate (free) I-phone, Android
Translation has never been easier thanks to Google. Google Translate offers translation between fifty languages, voice input to get translations, text to speech, speech to speech conversation mode, and a surprising new feature that allows the camera on your phone to translate what it's capturing whether it's handwritten or typed. Awesome right?
6. Sweet Whale (free) I-phone, Android
Drop those pesky cards in the trash and download Sweet Whale for your smart phone. This awesome app acts like a stamp card for dozens of restaurants and stores. Just a few of the places include Two. Broz, Sin Bin, Flee Flee, Taco Amigo, Coco Lounge, Vatos, Braai Republic, Scrooge Pub, Patisserie Michot, Chili King, A dream of Seed, The Waffle Factory, Bao, Hackney, Latte King, The Hungry Dog, Phillies Pub, Al Matto, and more.
7. Kakao Story (free) I-phone, Android
Kakao Talk was just the tip of the iceberg for social networking. Kakao Story expands on the previous app by allowing users to upload picture albums and messages to share between friends. Think of it as a leaner meaner and more colorful Facebook streamlined for your smart phone.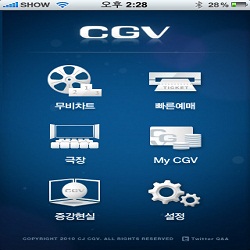 8. CGV (free) I-phone, Android
Despite needing to know Korean to sign up for this Movie app for the popular CGV chain of theaters has an easy to use interface that only requires some basic Korean once you're up and running. You can check out what's playing and where, select your seats and buy your tickets all through the app.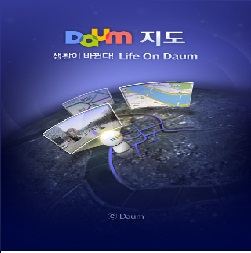 9. Daum Maps (free) I-phone, Android
Daum maps makes the list but with all it's bells and whistles it should really be higher. For starters you can search for businesses and other attractions. The text is clickable for subway stations and bus stops so you can receive updated arrival information. You can also search public transportation routes, car routes, or even pedestrian routes. The app offers real time traffic updates with CCTV and accident/construction information. The maps are high definition with the option of Sky view or a 360 degree panorama. It does all that and so much more like searching for stores offering discounts. The downside and why its probably so low on the list is that you need some basic Korean to operate the app.
10. Visit Korea (free) I-Phone, Android
A surprise on the list, at least to me, Visit Korea takes the Korean Tourism Organization Website and compacts it into an app. You can exchange rates, ongoing events, weather updates, contact numbers and special promotions. It's perfect for new comers to Korea or for friends and family who visit you here.
So there you have it the top ten apps from one hundred expats! I hope you found a few to make your life abroad easier. And if one of your own apps you use didn't make the list then please let us all know about it in the comments!