So now that the article is published in the magazine it's cool to reprint it here on my website. So, folks, for those of you not in Korea with access to a Groove here is my articlce that appeared in the October issue. This is part one.
Gyeonidan
Gyeonidan Street runs across from Haebunchon and not far from Noksopyeong station. It's a long winding road that blends the residential with the commercial into one thoroughly busy thoroughfare. It's the perfect place to grab a bite to eat while watching the locals go about their daily business.
Leo's Deli anchors the beginning of Gyeonidan. This quaint eatery seems unassuming from the outside except for the sign proclaiming Leo's as being the place to find an authentic Reuben. Such a declaration has to be put to the test. Let me just say that Leo passed with flying colors, but I shouldn't get too far ahead of myself.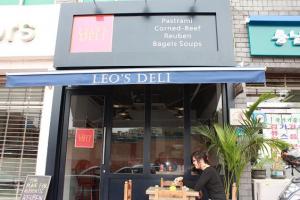 Inside Leo's Deli presents an inviting atmosphere. Frank Sinatra croons in the background. A friendly waitress with an easy smile arrives promptly to find you a seat. During peak times you may experience a bit of a wait as the space is cozy and comfortable but small. Still, like the saying goes, size truly doesn't matter because what Leo's Deli lacks in elbow room they make up for in their irresistible menu.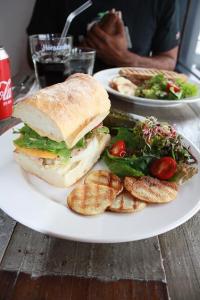 As you can imagine Leo's has all the standards of a typical deli. Soups, salads, and sandwiches can all be had at prices ranging from 5,000 to 10,000 Won. However, Leo's takes it a step further by offering the option of designing your own sandwich. Once you sit down the waitress presents you with a sheet so you can check off the ingredients. You choose the bread, meat, cheese, vegetables, and condiments. Making a decision will be hard with choices like pastrami, corned beef, smoked ham and turkey to tempt you. Each sandwich also comes with a fresh garden salad as well as homemade potato chips.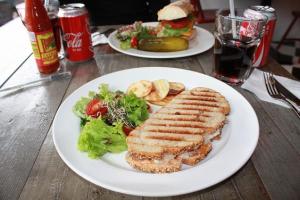 The Reuben is a perfect handful of deliciousness. The corned beef, Swiss cheese, and Sauerkraut all blended together harmoniously. I can same the same about the smoked turkey with cheddar on a ciabatta roll. Thick slices of succulent turkey with the sharp tang of cheddar put a smile on my face. I do have to say that the Dijon mustard might be a tad overwhelming to some, but I enjoyed every bite. I went with the typical choices, but being able to design your own sandwich means one could create an unexpected pairing sure to surprise even the most adventurous.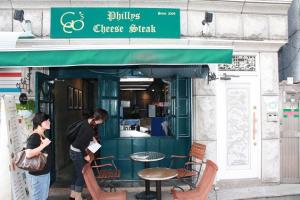 A little further up Gyeonidan Geo's Phillys Cheese Steak is another hot spot to grab a quick bite. The restaurant has a modern feel. Geo's own austere black and white photos adorn gray matted walls. In the background understated music plays. You can take a seat in the main restaurant and watch as the man himself cooks up your meal in the open kitchen or, instead, find a place on the front patio or the secluded outside nook if you want a more intimate setting.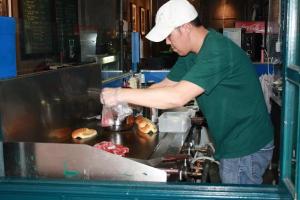 Geo, the man behind the name, is an affable easy going guy. He spent sixteen years in the American city of Philadelphia. During his time there he studied, lived, and grew to love the food and culture. When he returned to Seoul last year he noticed distinctly American East Coast foods, like Cheese Steaks, missing in the local restaurant scene. Looking to fill that void, in March 2009, the doors of Geo's Phillys Cheese Steak opened.
As you might expect from the name Cheese Steaks are the featured item on the menu. Geo makes a hefty cheese steak with a great balance of cheese, sauce, and beef that only dazzles the taste buds but keeps the bun firm to prevent those messy sloppy Joe moments. You also have the option of adding extra toppings like mushrooms, peppers or pizza sauce. If beef just isn't your thing you can switch things up with a chicken cheese steak or even go for a tuna salad or egg and cheese hoagie, cheeseburger or B.L.T. Sides include fries, mozzarella sticks, and chicken wings.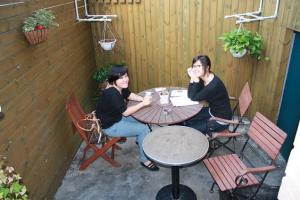 Geo keeps the prices affordable and the service brisk. Sandwiches start at 3,000 Won and combination plates go for 15,000 and under. On any given day you can find Geo himself behind the sizzling stove top, putting his personal touch on sandwiches. Service is prompt and courteous with a dash of panache.
To Be Continued….